SanDisk SSD Dashboard Version 3.8.2.9
SanDisk SSD Dashboard Version 3.8.2.9. - This software provides useful information on the Sandisk SSD (exact reference, capacity, firmware version, SMART data, remaining life, temperature, type of interface ...). It also allows to update their firmware directly patterns for last generation or creating bootable media (USB or CD / DVD drive) for older models.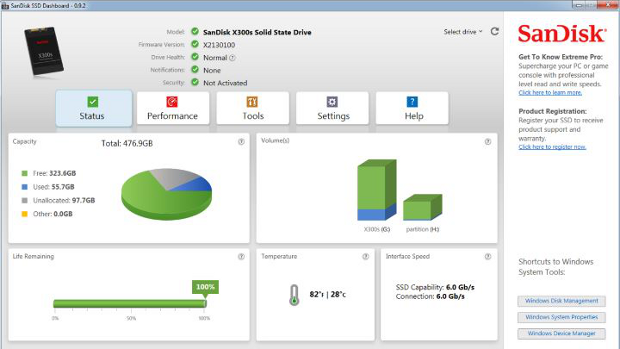 SSD Dashboard also contains a module performance analysis that allows real-time monitoring flows in reading and writing as well as the number of inputs / outputs per second (IOPS). It is also possible to run the TRIM command on an ad hoc or planned to optimize the organization of data on the SSD. Finally, it is possible to run SMART diagnostics or perform a complete removal of data (secure erase). This is the replacement for the SSD Toolkit application.
Support OS: Windows 10/11 - 32 or 64 bit.
Support Solid-State Drive (SSD) Sandisk:
Extreme 60 Go (SDSSDX-060G-G25)

Extreme 120 Go (SDSSDX-120G-G25)

Extreme 240 Go (SDSSDX-240G-G25)

Extreme 480 Go (SDSSDX-480G-G25)

Extreme II 120 Go (SDSSDXP-120G)

Extreme II 240 Go (SDSSDXP-240G)

Extreme II 480 Go (SDSSDXP-480G)

Extreme PRO 240 Go (SDSSDXPS-240G-G25)

Extreme PRO 480 Go (SDSSDXPS-480G-G25)

Extreme PRO 960 Go (SDSSDXPS-960G-G25)

Extreme PRO M.2 NVMe 3D 500 Go (SDSSDXPM2-500G)

Extreme PRO M.2 NVMe 3D 1 To (SDSSDXPM2-1T00)

ReadyCache 32 Go (SDSSDRC-032G-G26)

SSD 64 Go (SDSSDP-064G-G25)

SSD 128 Go (SDSSDP-128G-G25)

SSD 256 Go (SDSSDP-256G-G25)

SSD PLUS 120 Go (SDSSDA-120G-G25)

SSD PLUS 240 Go (SDSSDA-240G-G25)

SSD PLUS 480 Go (SDSSDA-480G-G25)

SSD PLUS 960 Go (SDSSDA-960G-G25)

SSD PLUS 1 To (SDSSDA-1T00-G25)

Ultra 60 Go (SDSSDH-060G-G25)

Ultra 120 Go (SDSSDH-120G-G25)

Ultra 240 Go (SDSSDH-240G-G25)

Ultra 3D 250 Go (SDSSDH3-250G-G25)

Ultra 3D 250 Go (SDSSDH3-500G-G25)

Ultra 3D 1 To (SDSSDH3-1T00-G25)

Ultra 3D 2 To (SDSSDH3-2T00-G25)

Ultra II 120 Go (SDSSDHII-120G-G25)

Ultra II 240 Go (SDSSDHII-240G-G25)

Ultra II 480 Go (SDSSDHII-480G-G25)

Ultra II 960 Go (SDSSDHII-960G-G25)

Ultra Plus 64 Go (SDSSDH2-064G)

Ultra Plus 64 Go (SDSSDHP-064G)

Ultra Plus 128 Go (SDSSDH2-128G)

Ultra Plus 128 Go (SDSSDHP-128G)

Ultra Plus 256 Go (SDSSDH2-256G)

Ultra Plus 256 Go (SDSSDHP-256G)

X300 2.5" 7 mm 128 Go (SD7SB6S-128G-1022)

X300 2.5" 7 mm 128 Go (SD7SB6S-128G-1122)

X300 2.5" 7 mm 256 Go (SD7SB6S-256G-1022)

X300 2.5" 7 mm 256 Go (SD7SB6S-256G-1122)

X300 2.5" 7 mm 512 Go (SD7SB7S-512G-1022)

X300 2.5" 7 mm 512 Go (SD7SB7S-512G-1122)

X300 2.5" 7 mm 1 To (SD7SB7S-010T-1022)

X300 2.5" 7 mm 1 To (SD7SB7S-010T-1122)

X300 M.2 2280 128 Go (SD7SN6S-128G-1022)

X300 M.2 2280 128 Go (SD7SN6S-128G-1122)

X300 M.2 2280 256 Go (SD7SN6S-256G-1022)

X300 M.2 2280 256 Go (SD7SN6S-256G-1122)

X300 M.2 2280 512 Go (SD7SN6S-512G-1022)

X300 M.2 2280 512 Go (SD7SN6S-512G-1122)

X300 mSATA 128 Go (SD7SF6S-128G-1022)

X300 mSATA 128 Go (SD7SF6S-128G-1122)

X300 mSATA 256 Go (SD7SF6S-256G-1022)

X300 mSATA 256 Go (SD7SF6S-256G-1122)

X300 mSATA 512 Go (SD7SF6S-512G-1022)

X300 mSATA 512 Go (SD7SF6S-512G-1122)

X300s 2.5" 64 Go (SD7SB3Q-064G-1022)

X300s 2.5" 64 Go (SD7SB3Q-064G-1122)

X300s 2.5" 128 Go (SD7SB3Q-128G-1022)

X300s 2.5" 128 Go (SD7SB3Q-128G-1122)

X300s 2.5" 256 Go (SD7SB3Q-256G-1022)

X300s 2.5" 256 Go (SD7SB3Q-256G-1122)

X300s 2.5" 512 Go (SD7SB2Q-512G-1022)

X300s 2.5" 512 Go (SD7SB2Q-512G-1122)

X300s 2.5" 1 To (SD7SB2Q-010T-1022)

X300s 2.5" 1 To (SD7SB2Q-010T-1122)

X300s M.2 64 Go (SD7SN3Q-064G-1022)

X300s M.2 64 Go (SD7SN3Q-064G-1122)

X300s M.2 128 Go (SD7UN3Q-128G-1022)

X300s M.2 128 Go (SD7UN3Q-128G-1122)

X300s M.2 256 Go (SD7UN3Q-256G-1022)

X300s M.2 256 Go (SD7UN3Q-256G-1122)

X300s M.2 512 Go (SD7UN3Q-512G-1022)

X300s M.2 512 Go (SD7UN3Q-512G-1122)

X400 2.5" 128 Go (SD8SB8U-128G)

X400 2.5" 128 Go (SD8SB8U-128G-1122)

X400 2.5" 128 Go (SD8TB8U-128G-1122)

X400 2.5" 256 Go (SD8SB8U-256G)

X400 2.5" 256 Go (SD8SB8U-256G-1122)

X400 2.5" 256 Go (SD8TB8U-256G-1122)

X400 2.5" 512 Go (SD8SB8U-512G)

X400 2.5" 512 Go (SD8SB8U-512G-1122)

X400 2.5" 512 Go (SD8TB8U-512G-1122)

X400 2.5" 1 To (SD8SB8U-1T00)

X400 2.5" 1 To (SD8SB8U-1T00-1122)

X400 2.5" 1 To (SD8TB8U-1T00-1122)

X400 M.2 128 Go (SD8SN8U-128G)

X400 M.2 128 Go (SD8SN8U-128G-1122)

X400 M.2 256 Go (SD8SN8U-256G)

X400 M.2 256 Go (SD8SN8U-256G-1122)

X400 M.2 512 Go (SD8SN8U-512G)

X400 M.2 512 Go (SD8SN8U-512G-1122)

X400 M.2 1 To (SD8SN8U-1T00)

X400 M.2 1 To (SD8SN8U-1T00-1122)

X600 2.5" 7 mm 128 Go (SD9SB8W-128G)

X600 2.5" 7 mm 256 Go (SD9SB8W-256G)

X600 2.5" 7 mm 512 Go (SD9SB8W-512G)

X600 2.5" 7 mm 1 To (SD9SB8W-1T00

X600 2.5" 7 mm 2 To (SD9SB8W-2T00

X600 M.2 2280 128 Go (SD9SN8W-128G)

X600 M.2 2280 256 Go (SD9SN8W-256G)

X600 M.2 2280 512 Go (SD9SN8W-512G)

X600 M.2 2280 1 To (SD9SN8W-1T00)

X600 M.2 2280 2 To (SD9SN8W-2T00)

X600 SED 2.5" 7 mm 128 Go (SD9TB8W-128G)

X600 SED 2.5" 7 mm 256 Go (SD9TB8W-256G)

X600 SED 2.5" 7 mm 512 Go (SD9TB8W-512G)

X600 SED 2.5" 7 mm 1 To (SD9TB8W-1T00)

X600 SED 2.5" 7 mm 2 To (SD9TB8W-2T00)

X600 SED M.2 2280 128 Go (SD9TN8W-128G)

X600 SED M.2 2280 256 Go (SD9TN8W-256G)

X600 SED M.2 2280 512 Go (SD9TN8W-512G)

X600 SED M.2 2280 1 To (SD9TN8W-1T00)

X600 SED M.2 2280 2 To (SD9TN8W-2T00)

Z400s 2.5" 7 mm 32 Go (SD8SBAT-032G)

Z400s 2.5" 7 mm 32 Go (SD8SBAT-032G-1122)

Z400s 2.5" 7 mm 64 Go (SD8SBAT-064G)

Z400s 2.5" 7 mm 64 Go (SD8SBAT-064G-1122)

Z400s 2.5" 7 mm 128 Go (SD8SBAT-128G)

Z400s 2.5" 7 mm 128 Go (SD8SBAT-128G-1122)

Z400s 2.5" 7 mm 256 Go (SD8SBAT-256G)

Z400s 2.5" 7 mm 256 Go (SD8SBAT-256G-1122)

Z400s M.2 2242 64 Go (SD8SNAT-064G)

Z400s M.2 2242 64 Go (SD8SNAT-064G-1122)

Z400s M.2 2242 128 Go (SD8SNAT-128G)

Z400s M.2 2242 128 Go (SD8SNAT-128G-1122)

Z400s M.2 2280 32 Go (SD8SMAT-032G)

Z400s M.2 2280 32 Go (SD8SMAT-032G-1122)

Z400s M.2 2280 64 Go (SD8SMAT-064G)

Z400s M.2 2280 64 Go (SD8SMAT-064G-1122)

Z400s M.2 2280 128 Go (SD8SMAT-128G)

Z400s M.2 2280 128 Go (SD8SMAT-128G-1122)

Z400s M.2 2280 256 Go (SD8SNAT-256G)

Z400s M.2 2280 256 Go (SD8SNAT-256G-1122)

Z400s mSATA 32 Go (SD8SFAT-032G)

Z400s mSATA 32 Go (SD8SFAT-032G-1122)

Z400s mSATA 64 Go (SD8SFAT-064G)

Z400s mSATA 64 Go (SD8SFAT-064G-1122)

Z400s mSATA 128 Go (SD8SFAT-128G)

Z400s mSATA 128 Go (SD8SFAT-128G-1122)

Z410 120 Go (SD8SBBU-120G-1122)

Z410 240 Go (SD8SBBU-240G-1122)

Z410 480 Go (SD8SBBU-480G-1122)

Western Digital PC SN520 NVMe SSD M.2 2230 128 Go (SDAPTUW-128G)

Western Digital PC SN520 NVMe SSD M.2 2230 256 Go (SDAPTUW-256G)

Western Digital PC SN520 NVMe SSD M.2 2230 512 Go (SDAPTUW-512G)

Western Digital PC SN520 NVMe SSD M.2 2242 128 Go (SDAPMUW-128G)

Western Digital PC SN520 NVMe SSD M.2 2242 256 Go (SDAPMUW-256G)

Western Digital PC SN520 NVMe SSD M.2 2242 512 Go (SDAPMUW-512G)

Western Digital PC SN520 NVMe SSD M.2 2280 128 Go (SDAPNUW-128G)

Western Digital PC SN520 NVMe SSD M.2 2280 256 Go (SDAPNUW-256G)

Western Digital PC SN520 NVMe SSD M.2 2280 512 Go (SDAPNUW-512G)

Western Digital PC SN720 NVMe SSD 256 Go (SDAPNTW-256G)

Western Digital PC SN720 NVMe SSD 512 Go (SDAPNTW-512G)

Western Digital PC SN720 NVMe SSD 1 To (SDAPNTW-2T00)

Western Digital PC SN720 NVMe SSD 2 To (SDAPNTW-2T00)